Chandigarh: As per the last census done in 2011, Shahbad, a town on the Chandigarh-Delhi National Highway in the Kurukshetra district, has one of the worst child sex ratios in the country. 
Shahbad's child sex ratio of 797 (girls to 1000 boys) is far below the average child sex ratio of Haryana (830) and India (919). 
Despite girls being unwanted children in this highway town of Haryana, it's the girls who have put Shahbad on the world map. 
Famous for producing world-class women's hockey players, Shahbad has earned the title of a women's hockey nursery, courtesy of Dronacharya awardee hockey coach Baldev Singh.
Thanks to coach Baldev Singh, over 150 girls, largely coming from humble backgrounds, have been able to improve the socio-economic status of their families.
Moving from Shahbad to Sonipat, former Indian women's hockey captain-turned-coach Pritam Siwach is giving wings to girls to help them achieve their dreams of uplifting the socio-economic status of their families.
In a remote village of Hisar, Chuli Bagrian, a football coach, Vinod Loyal, is scripting a success story for the girls, while the famous coach of Bhiwani, Jagdish Singh, continues to rack up boxing successes.
On this Teacher's Day, we introduce you to the coaches who are changing the lives of their students, largely coming from humble backgrounds.
Changing lives through Hockey – Hockey coach Pritam Siwach

Pritam Siwach (centre, blue upper) with her academy team at Khelo India Hockey League (U-21)
First as a player and now as a coach, Pritam Siwach is playing a pivotal role in inspiring girls to pursue hockey as a career.
After getting married and entering motherhood, former Indian women's hockey team captain Pritam Siwach made a comeback in the Indian squad for the 2002 Commonwealth Games. At that time, she was the only mother in the entire Indian contingent, across all disciplines, for the Games.
"In the 2002 CWG, we won the historic gold, and that win changed the scenario of Indian Women's hockey. The victory inspired the blockbuster Bollywood movie 'Chak De India.' Being a mother and winning gold for the country at the Commonwealth Games motivated girls to extend their playing careers. There was a time when marriage was a compulsory stopover for women in Indian sports, but in the last two decades, things have changed, and now you will see many married girls, including those who have become mothers, pursuing sports at the top level," said Pritam Siwach, who once hung up her boots after leading the Indian women to a silver medal in the 1998 Asian Games due to marriage.
After her marriage, Arjuna awardee Pritam settled in Sonipat, and in 2004, she opened a free-of-cost hockey academy for girls in the city. Since then, she has been shaping the careers of young girls, many of whom come from humble backgrounds.
"To provide equal opportunities for girls to shine in the sport, I opened a hockey academy, and since then, it has become my mission to empower girls through hockey," said Pritam, who became the country's first female coach to be honoured with the prestigious Dronacharya award in 2021. "Initially, there were many issues, including resistance from parents, in getting girls onto the hockey field. But with my first group of trainees securing government jobs under the sports quota, things started changing, and now parents want their daughters to pursue hockey as a career."
Lately, the Pritam Siwach Hockey Academy has become one of the country's top women's hockey nurseries. In the forthcoming 2023 Asian Games, two of her trainees, Neha and Nisha, have made it to the Indian women's hockey squad.
Empowering girls through sports – Hockey coach Baldev Singh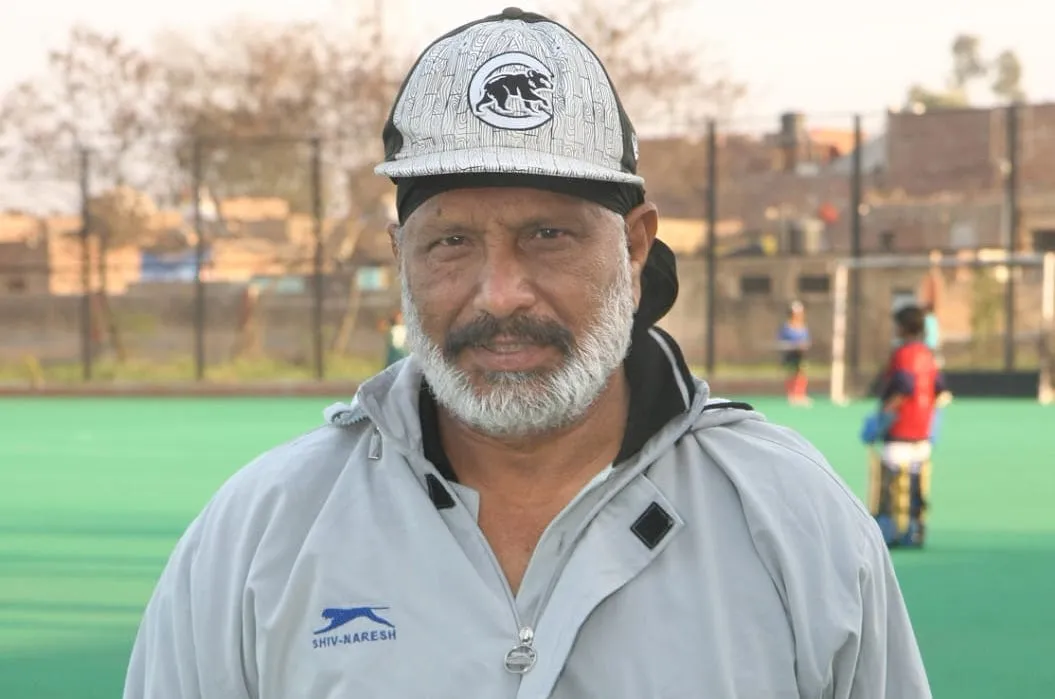 Dronacharya awardee hockey coach Baldev Singh at Shahbad hockey field
The women's hockey success story of Shahabad started in 1992 when the then Haryana Sports Department coach, Baldev Singh, returned to the city after an earlier stint of four years (1982-86) in the area.
Thanks to his efforts, Shahabad gained prominence on the women's hockey world map, and the sport is helping the girls in the area lead decent lives.
For the last three decades, hockey has been transforming the lives of underprivileged girls in the area. The sport has not only made them independent but has also enabled them to uplift the socioeconomic status of their families.
Over 150 girls have secured jobs through sports quotas, and the city has witnessed over 60 girls representing the country in almost all international tournaments, including the Asian Games, Commonwealth Games, and Olympic Games.
"During my initial four-year stint, I built a rapport with the locals, and when I returned to Shahabad in 1992, people trusted me enough to allow their girls to come to the hockey field," recalled Coach Baldev Singh, who received the country's highest sporting honour, the Dronacharya Award. "I am happy that I have been able to bring visible change to the lives of these girls through hockey."
For the last 25 years, no Indian women's hockey team, across all age groups, has left Indian shores without a girl from Shahabad in its ranks.
In the 2023 Asian Games, Shahabad's Navneet Kaur has earned a place in the Indian Women's squad.
"It's the dedication and the hunger to achieve and provide a decent life for their families that is motivating these girls to achieve big in the sporting world," added Baldev Singh, who retired as a deputy director from the Haryana Sports Department and is currently on assignment at Khalsa College, Amritsar. Many of his trainees from Shahabad have shifted their base to Amritsar so that they can train under Coach Baldev.
One can find numerous incredible success stories in Shahabad – stories of courage, overcoming adversities, and women using hockey as a tool to change their entire families' lives. Above all, their contribution in changing the narrative of women's roles in a male-dominated society is remarkable. And for all these social changes, thanks to Coach Baldev Singh.
Bringing about social change through football – Football coach Vinod Loyal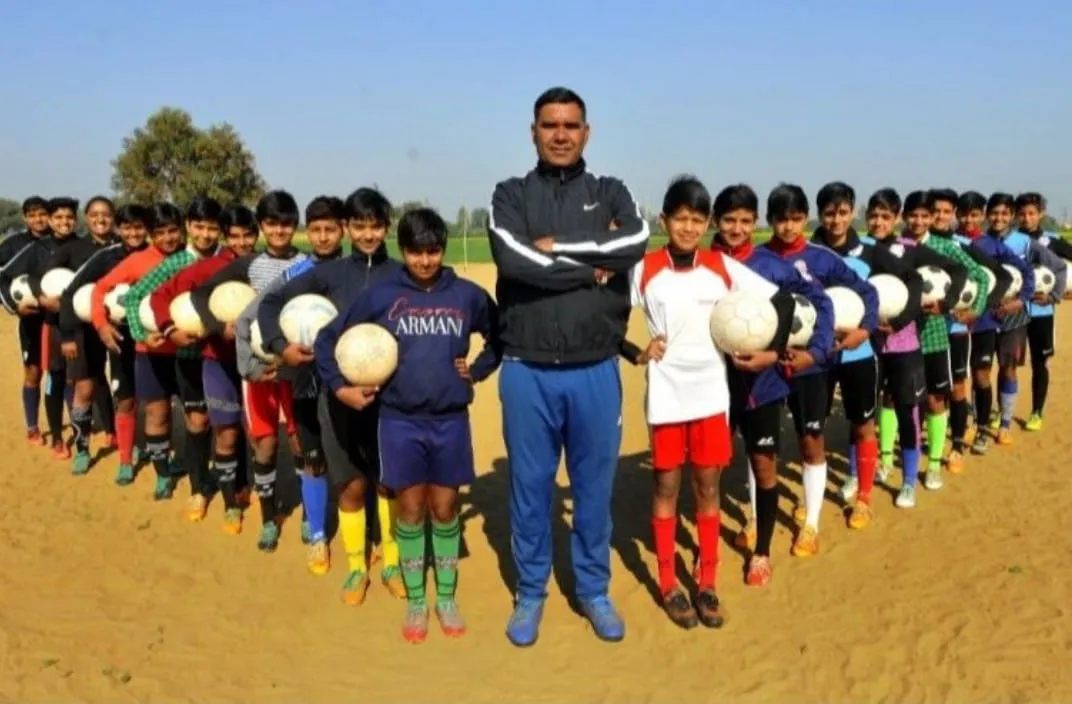 Football coach Vinod Loyal with his trainees at Chuli Bagrian village in Hisar
The football story of the trainees of the Vinod Football Club, Chuli Bagrian, started with playing in a cemetery due to a limitation of a playground, and now these girls are leaving their footprints on the international stage, all thanks to Coach Vinod Loyal.
Vinod, aged 41, makes his living through farming but is driven by his passion for football. He is ready to go the extra mile, pitching in funds from his own pockets, and over the years, he has become a saviour for the girls, the majority of whom come from humble backgrounds.
Over the years, 15 of his trainees have made it to the Indian women's football squad in various age groups, and the count is still ongoing.
"It was almost a one-sided loss for my native village Chuli Bagrian's boys' football team in a local tournament that pushed me into a coaching profession," said Vinod, who was then a student in Class 11 when he started coaching.
It was not only Vinod's village Chuli Bagrian that benefited, but also the village of Sadalpur, which is 13 kilometres away, has benefitted from his passion for coaching.
"I was hoping for a career in football and wanted to pursue a coaching diploma from NIS, Patiala, but my early marriage forced me to change my priorities, and I got stuck with family affairs. I was 17, and my wife was just 14 when we got married. I know how dreams can get crushed once you enter wedlock at an early age," said Vinod, who provides free coaching and, through his personal resources and connections, tries to provide equipment to the girls and meet the requirements for footballs at the centre. "Early marriage is still prevalent in our area, but thanks to football, the parents of my trainees are not considering marriage over their sports careers."
Boxing for a better life – Boxing coach Jagdish Singh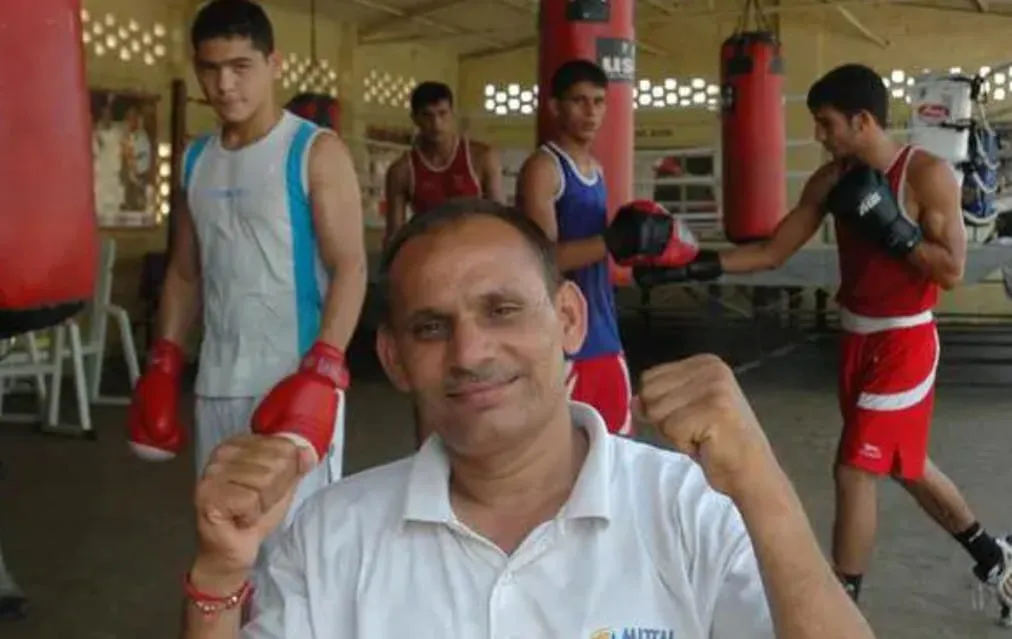 Dronacharya awardee boxing coach Jagdish Singh at his famous Bhiwani Boxing Club (BBC)
Beijing Olympics bronze medalist Vijender Singh hails from a humble background. His father was a bus driver, and his elder brother had to look for an armed forces job in his late teens so that he could support the family. But it was a medal in the quadrennial games that changed Vijender's family's fortunes. Boxing has given him everything, from name and fame to money. 
Like Vijender, there are hundreds of youth in and around Bhiwani who are leading decent lives because of boxing. The sport has secured them government jobs and decent cash incentives for their national and international medals.
Thanks to a coach like Dronacharya awardee Jagdish Singh, the sport has become a life-changer for the youth, the majority of whom come from humble backgrounds.
"Bhiwani district touches the Rajasthan border. You can't depend much on farming, and there are no big industries. So youngsters, especially those from the rural belt of Bhiwani, look to sports as a livelihood, something that will improve their lives," said Jagdish Singh, the founder of Bhiwani Boxing Club (BBC).
The BBC has become a stepping stone to excel in the combat sport and eventually a key to a better life.
"Earlier, it was only boys, but since women's boxing made its debut in the Olympics, girls here too have started pursuing boxing as a career, and many of them have secured jobs under the sports quota," said Jagdish Singh, who was conferred with the Dronacharya award in 2007.
Over hundreds of his trainees are leading better lives because of boxing, and the count is ongoing.